The Mr. Rogers of Children's Poetry: Robert Louis Stevenson
Television's Fred Rogers, the creator and chief actor of "Mister Rogers' Neighborhood," won accolades and fame for his ability to connect with small children. He spoke their language, understood their emotions, helped them understand the bigger world while also rendering it a place of enchantment, and acted as a gentle guide to life in general. The children watching his show often felt as if he was conversing with them directly. As one young viewer said, "I can't leave now. Who will Mr. Rogers talk to?"
To "A Child's Garden of Verses," first published in 1885 and regarded as one of the most influential children's books of the 19th century, Robert Louis Stevenson (1850–1894) brought similar magic. In most of his poems, he wrote from the point of view of a child and addressed his young readers as equals. Like Mr. Rogers, he is tender, whimsical, engaging, and wise.
We may remember him primarily as a writer of such novels as "Treasure Island," "Kidnapped," and "The Strange Case of Dr. Jekyll and Mr. Hyde," but his children's poetry has also endured and has found a home in children's anthologies and, of course, in "A Child's Garden of Verses," which remains in print today.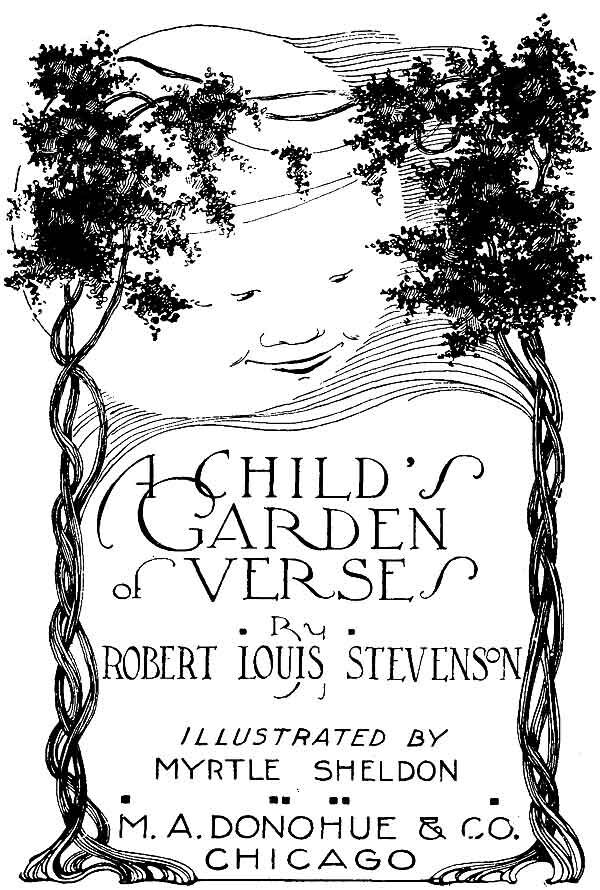 The Birth of a Dreamer
As an infant and into his adolescence, Stevenson required the care of a full-time nanny. He was sickly, plagued by a terrible cough, often weak, and suffered from horrible nightmares. His lung impairment, which lasted throughout his lifetime, forced him to spend much of his boyhood in bed. During that time, he developed his powers of the imagination, turning his bed covers into battlefields and castles, as shown in his poem "The Land of Counterpane" (a word meaning bedspread or quilt), and imagining exotic historical figures—kings, queens, and a troupe of others—parading through his room or down the street outside.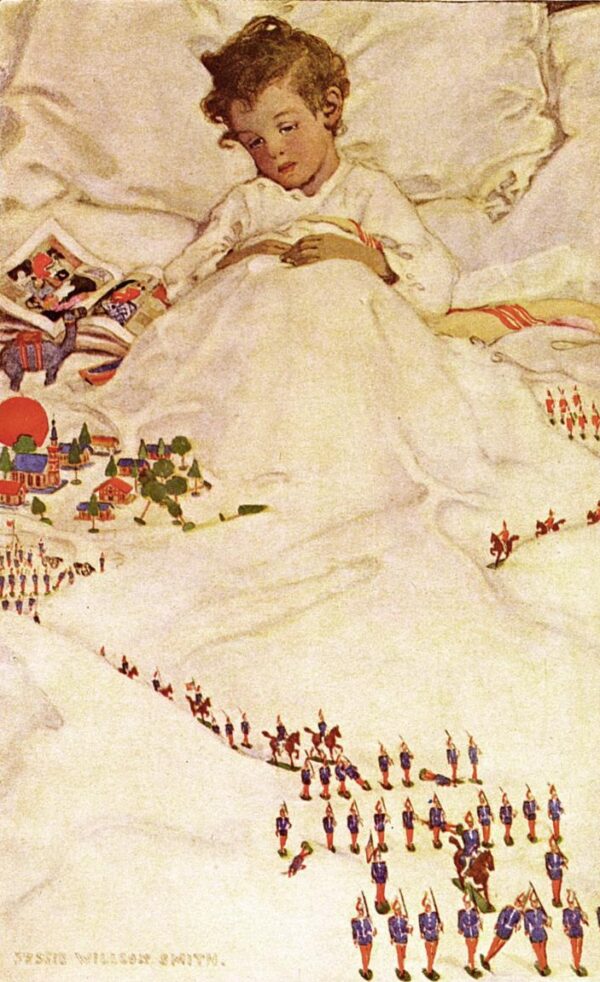 Later, Stevenson credited his nanny, Alison Cunningham, or "Cummy," with helping him through the long illness of his boyhood. Until his death at age 44, he often wrote letters to his former nanny and dedicated "A Child's Garden of Verses" to her. Here are the first two stanzas of "To Alison Cunningham":
"For the long nights you lay awake
And watched for my unworthy sake:
For your most comfortable hand
That led me through the uneven land:
For all the story-books you read:
For all the pains you comforted:
For all you pitied, all you bore,
In sad and happy days of yore:—
My second Mother, my first Wife,
The angel of my infant life—
From the sick child, now well and old,
Take, nurse, the little book you hold!"
The Joys of Childhood
Despite the physical miseries of his younger years, Stevenson celebrated happiness, nature, and mystery in his poems for children, keen to make them aware of the magic of being alive. In "Rain," for example, he sought to expand their imaginations, reminding them of the world beyond their own backyard:
"The rain is raining all around,
It falls on field and tree,
It rains on the umbrellas here,
And on the ships at sea."
"Escape at Bedtime" directs our eyes to the stars. Here's the first verse:
"The lights from the parlour and kitchen shone out
Through the blinds and the windows and bars;
And high overhead and all moving about,
There were thousands of millions of stars.
There ne'er were such thousands of leaves on a tree,
Nor of people in church or the Park,
As the crowds of the stars that looked down upon me,
And that glittered and winked in the dark."
And most readers, I suspect, have read or know by heart Stevenson's "Happy Thought":
"The world is so full of a number of things,
I'm sure we should all be as happy as kings."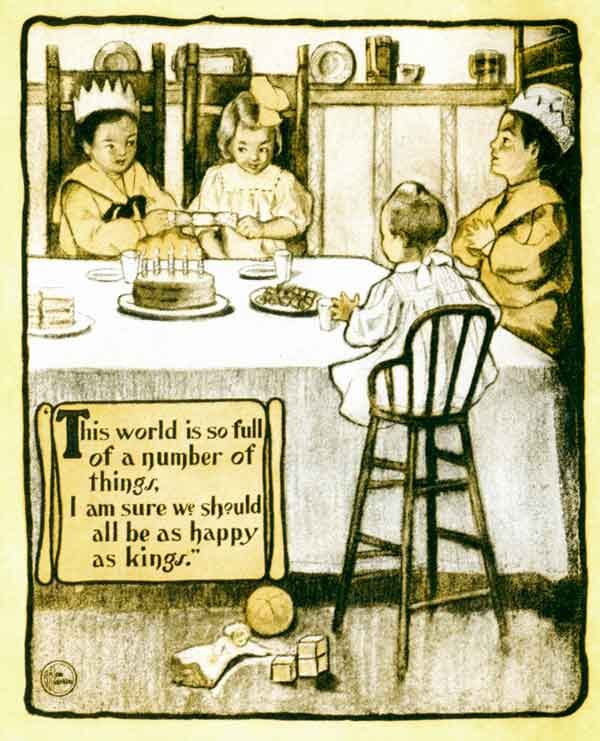 Through the Eyes of a Child
With a few exceptions, Stevenson wrote his poetry in first person, a child speaking for children. "Foreign Lands" gives us a child climbing a tree, looking first into a neighbor's garden and then at a "dimpling river," and at last speculating on what might be seen from a much higher tree:
"To where the roads on either hand
Lead onward into fairy land,
Where all the children dine at five,
And all the playthings come alive."
Here, the poet remembers that childhood dream which entertained the notion that our dolls and toy soldiers might somehow breathe with life.
Those with small children or grandchildren who have battled to get the kids into bed while the sun is still shining will smile at "Bed in Summer." In this poem, the child laments having "to go to bed and see/ The birds still hopping on the tree," with this ending:
"And does it not seem hard to you,
When all the sky is clear and blue,
And I should like so much to play,
To have to go to bed by day?"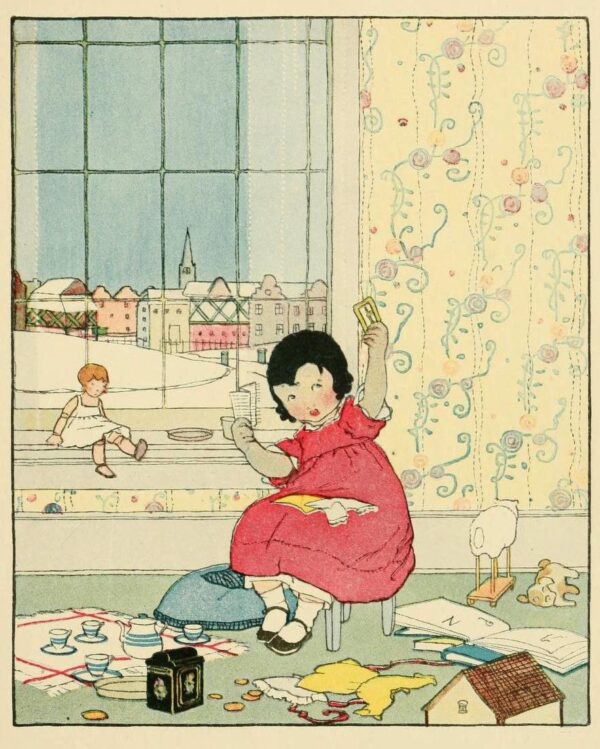 Innocence and Experience
Most parents want their young ones to remain free from the experiences of adulthood—everything from politics to sexuality—until they are mature enough to handle such topics. Instead, we want them to exercise their imaginations, to build forts, dash about the yard pretending to be pirates, or dress up in a gown and tiara and so to become a princess.
In "Block City," Stevenson began with a question, "What are you able to build with your blocks?" and then proceeded to describe his "Castles and palaces, temples and docks" that he built as a child. Like my own grandchildren, the boy puts together his city of blocks, but then eventually dashes it down: "Block upon block lying scattered and free,/ What is there left of my town by the sea?"
"The Land of Story-Books" touts the importance to the imagination of literature and pictures:
"These are the hills, these are the woods,
These are my starry solitudes;
And there the river by whose brink
The roaring lions come to drink."
The poem ends with this verse:
"So, when my nurse comes in for me,
Home I return across the sea,
And go to bed with backward looks
At my dear land of story-books."
Wonder
To most small children, the entire world is a place of wonderment and the miraculous. Their senses and perceptions are fresh, still being unpackaged with each passing day, so that even the smallest act—finding a penny in a parking lot, eating a slice of watermelon on a hot August afternoon, exploring the woods at the edge of the yard, listening to Mom read "Three Billy Goats Gruff"—is freighted with a significance that escapes adults.
In all these poems, Stevenson clearly aimed at enhancing this childhood sense of wonder. His verse reinforces this sense of awe and mystery our kids feel, though they lack the vocabulary and skill to express that wonderment. But even for those of us grownups who read these poems to the younger set, Stevenson has a message. He reminds us to remember the magic of our own childhoods, however far removed in years we are. "Block City" finishes with these words:
"Yet as I saw it, I see it again,
The kirk and palace, the ships and the men,
And as long as I live and where'er I may be,
I'll always remember my town by the sea."
May we all do the same.
Endnote: Many different editions of "A Child's Garden of Verses" are available in libraries, bookstores, and online stores. For readers wishing to purchase the book, I urge you to compare these volumes, keeping in mind that the illustrations add immensely to the reading pleasure of these poems for both young and old.
Jeff Minick has four children and a growing platoon of grandchildren. For 20 years, he taught history, literature, and Latin to seminars of homeschooling students in Asheville, N.C. He is the author of two novels, "Amanda Bell" and "Dust On Their Wings," and two works of non-fiction, "Learning As I Go" and "Movies Make The Man." Today, he lives and writes in Front Royal, Va. See JeffMinick.com to follow his blog.