Mainly Mozart Keeps Classical Music Alive in San Diego
For more than three decades, Mainly Mozart and its annual festivals of all-star musicians and soloists remained San Diego's best-kept secret. It took a disaster to change that. Throughout the darkest months of the COVID-19 pandemic, while other performing arts organizations were in duck-and-cover mode, Mainly Mozart made the heroic commitment to keeping live classical music alive.
And in doing so, ironically, for the first time, they gained national attention.
It was an improbable story of survival, ingenuity, and an ample dose of chutzpah that began on July 11, 2020, in a dusty parking lot and climaxed on June 20, 2021, as a capacity post-COVID-restrictions audience gathered on a vast grassy field to celebrate the finale of a five-day festival conducted by Mainly Mozart's music director, Michael Francis.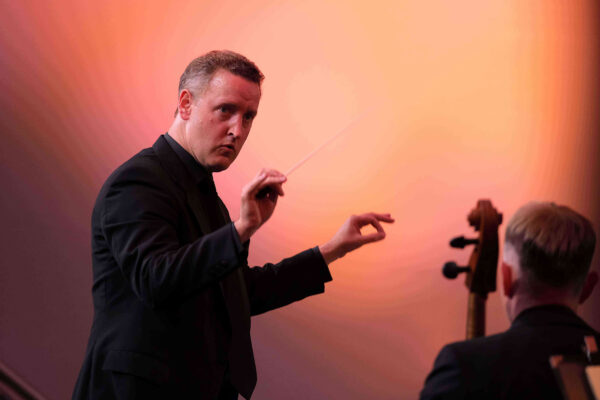 At a time when California was in shutdown mode and myriad health restrictions were in place, Mainly Mozart decided to take a stand. The question was how to safely present a live performance for more than 10 people? Was it even possible? The model turned out to be that icon of American pop culture—the drive-in theater.
Armed with a full-steam-ahead mindset and a Judy Garland-meets-Mickey Rooney "Let's put on a show" level of determination, CEO Nancy Laturno set in motion a plan to present the nation's first drive-in concert of classical music.
Confined to their cars, that first audience watched as eight masked and socially distanced musicians from the Los Angeles Philharmonic and the San Diego Symphony performed music by Mozart and Mendelssohn under umbrellas on a makeshift stage. Despite the awkwardness of the arrangement, the rapport between artists and audiences that had been taken away for so long came rushing back. And when the last (amplified) notes faded, the audience showed its overwhelming approval—not with a boisterous round of applause, but with a cacophonous chorus of honking car horns.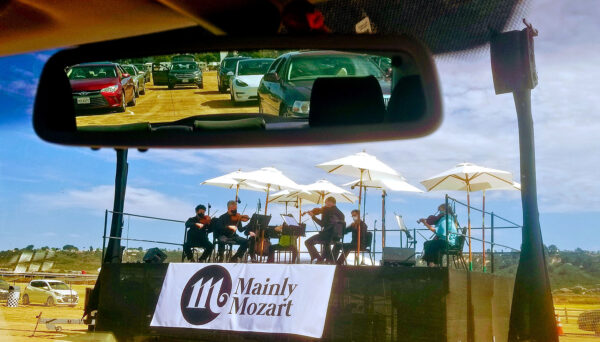 Mainly Mozart's drive-in experiment could have ended there, but didn't. And on Oct. 22, 2020, the company inaugurated its new and improved venue at the Del Mar Fairgrounds. It included paved parking for up to 350 cars, representing an audience of well over 1,000; a canopy-covered stage large enough to accommodate an entire chamber orchestra; an enhanced sound system (with FM radio simulcast); and a pair of shimmering billboard-size video screens that flanked the stage.
In preparation, invitations were sent to principal players and concertmasters around the country. The response was immediate. Musicians who had been forced to endure months of solitary confinement were eager for any opportunity to perform—especially for a live audience. The final roster read like a Who's Who of America's orchestras with players coming from the New York Philharmonic, the Metropolitan Opera Orchestra, the San Francisco Symphony, the Cleveland Orchestra, the Philadelphia Symphony, the Los Angeles Philharmonic, and others.
To ensure safety, rigorous testing procedures, social distancing, and masking were required as rehearsals began. Then, just as opening night arrived, a thick blanket of fog rolled in and enveloped the stage. Nevertheless, Francis boldly raised his baton and launched into Antonio Vivaldi's "Four Seasons."
Challenging as the conditions were, the concert was an unquestionable success. Even the craziness of the fog seemed somehow appropriate for an organization for which overcoming adversity was standard operating procedure.
At a time when larger, less-agile organizations had retreated to the internet, sending out performance captures of masked musicians and no audience, Mainly Mozart motored on, presenting a succession of drive-in festivals in February and April. No longer San Diego's best-kept secret, coverage began to appear in national publications such as Newsweek and The Wall Street Journal.
Which brings us to Mainly Mozart's June festival at the Del Mar Surf Cup Sports Park and the sense of jubilation that surrounded it—onstage for Francis and his musicians, who were no longer hampered by masks and distancing, and also for the capacity audience members who no longer needed to rely on car horns to show their joyous approval. At a time when nearly every other American orchestra is just beginning to offer live performances, Mainly Mozart can say with pride that their audiences have numbered in the thousands for almost a year.
The next festival (outdoors at the sports park) will begin with a special 20th anniversary commemorative concert on Sept. 11 in collaboration with the National Center for Conflict Resolution. It will feature the Festival Orchestra conducted by David Kim (concertmaster of the Philadelphia Orchestra) with saxophonist Branford Marsalis as featured soloist. The festival will then continue through Sept. 18.
When You Go
For information and tickets: MainlyMozart.org
Jim Farber is a freelance writer. To read features by other Creators Syndicate writers and cartoonists, visit the Creators Syndicate website at Creators.com. Copyright 2021 Creators.com